NYC Parks and Beaches: Using Foot Traffic Data to Find the Perfect Picnic Spot
In the hustle and bustle of New York City, finding the perfect, tranquil spot for a picnic in one of its numerous parks or beaches can be quite a challenge. You may have often found yourself landing in a crowded area, with the perfect tranquillity of a picnic replaced by the cacophony of crowded places. But what if there's a way to plan ahead and find the perfect spot with the least crowd? Enter BestTime.app, a foot traffic data API that helps you do just that.
BestTime.app provides relative foot traffic data for public spaces such as parks and beaches, giving you a clear picture of the percentage of crowd presence for each hour of the week. This data can be a game-changer for your picnic planning. Imagine knowing beforehand how busy Central Park or Coney Island Beach is likely to be at a certain hour on a particular day. No more guessing, no more disappointments, just you and your perfect picnic spot.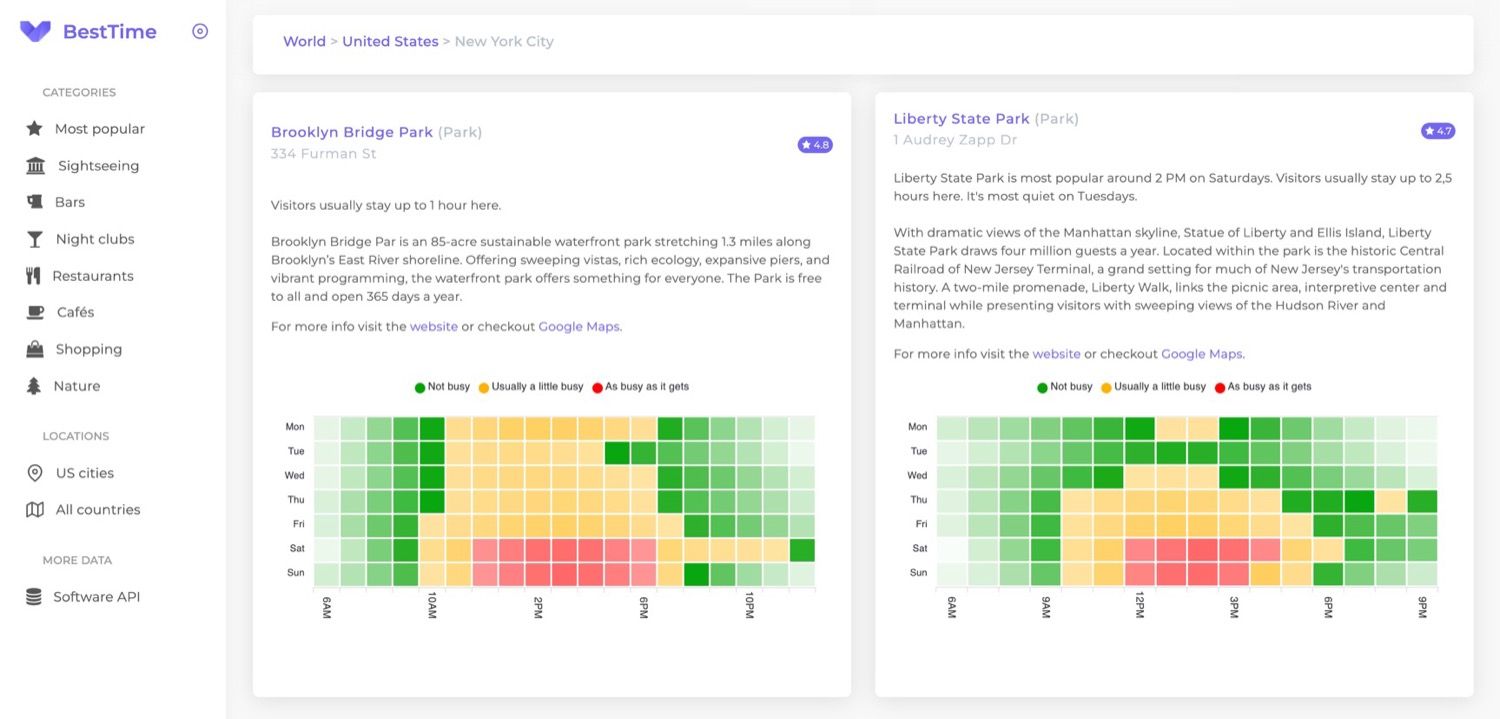 With this unique service, you can filter your options based on the expected foot traffic data. Looking for a quiet, weekday afternoon at Brighton Beach? Or perhaps a lively but not too crowded Sunday morning at Bryant Park? BestTime.app's foot traffic data can guide you. The app helps you tailor your outdoor plans according to the relative busy-ness of your preferred locations, ultimately enhancing your picnic experience in the city.
In conclusion, the revolutionary foot traffic data provided by BestTime.app is a tool that can significantly improve the quality of your outdoor experiences in New York City. The convenience and predictability it offers are invaluable in a city that's always on the move. Next time you plan a picnic or any outdoor event in NYC, remember to check the foot traffic data on BestTime.app. It's about time we used technology to reclaim our peace and enjoy the city's public spaces the way we want to.
Check out more parks in New York City in using the free BestTime guide.
Get more custom foot traffic data using BestTime.app