Enhance city guides and venue recommendation websites using foot traffic data
Guides tell you why and where to go. However, they often fail to inform users on the most ideal day and hour of the week to visit a place.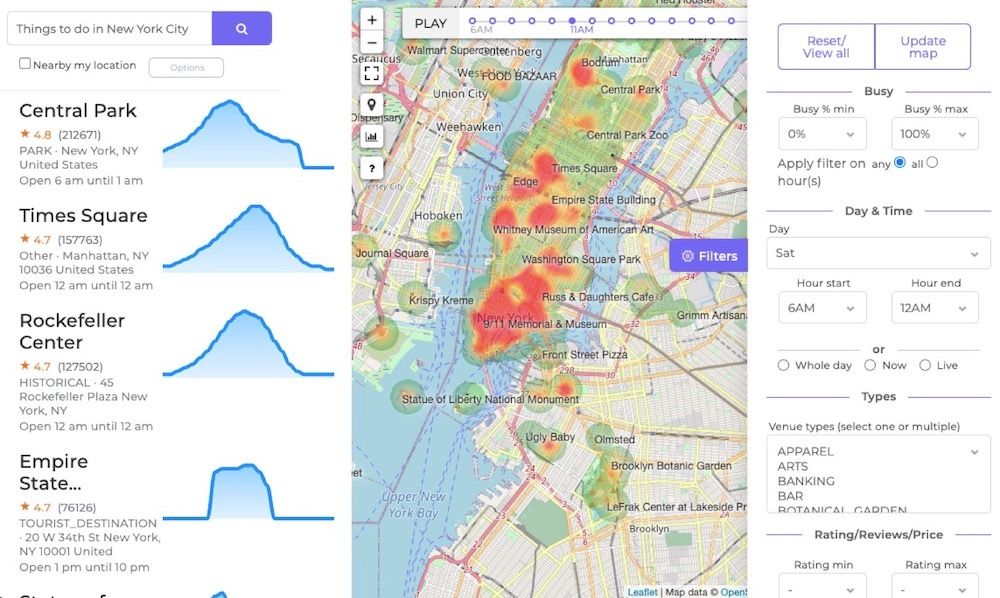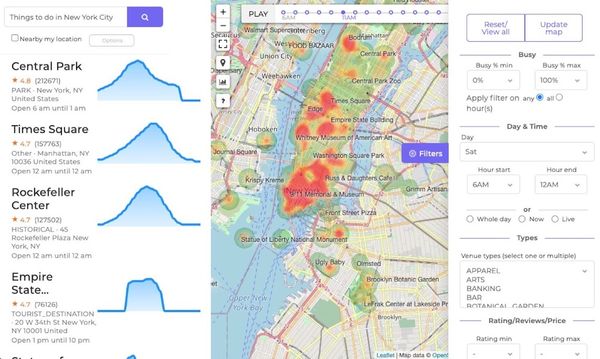 City guides and websites that recommend places to visit are great for telling customers where to go and why (such as museums, restaurants, and bars), but they typically won't tell them what the best day and time of the week to visit a venue. On a Wednesday night, a bar may occasionally be deserted while the line for a museum may be excruciatingly long.
BestTime provides foot traffic (footfall) data for public venues like museums, bars, restaurants, and other tourist attractions using mobile GPS signals. This data can also be implemented into these digital city guide apps and recommender websites using the BestTime foot traffic API.
The foot traffic data includes a forecast for every hour of the week. This is shown as a percentage from 0 to 100%, wherein 100% is the busiest peak of the week.  Some popular venues also have live data available. This shows how much more or less busy a venue is compared to the foot traffic in the past few weeks for that hour.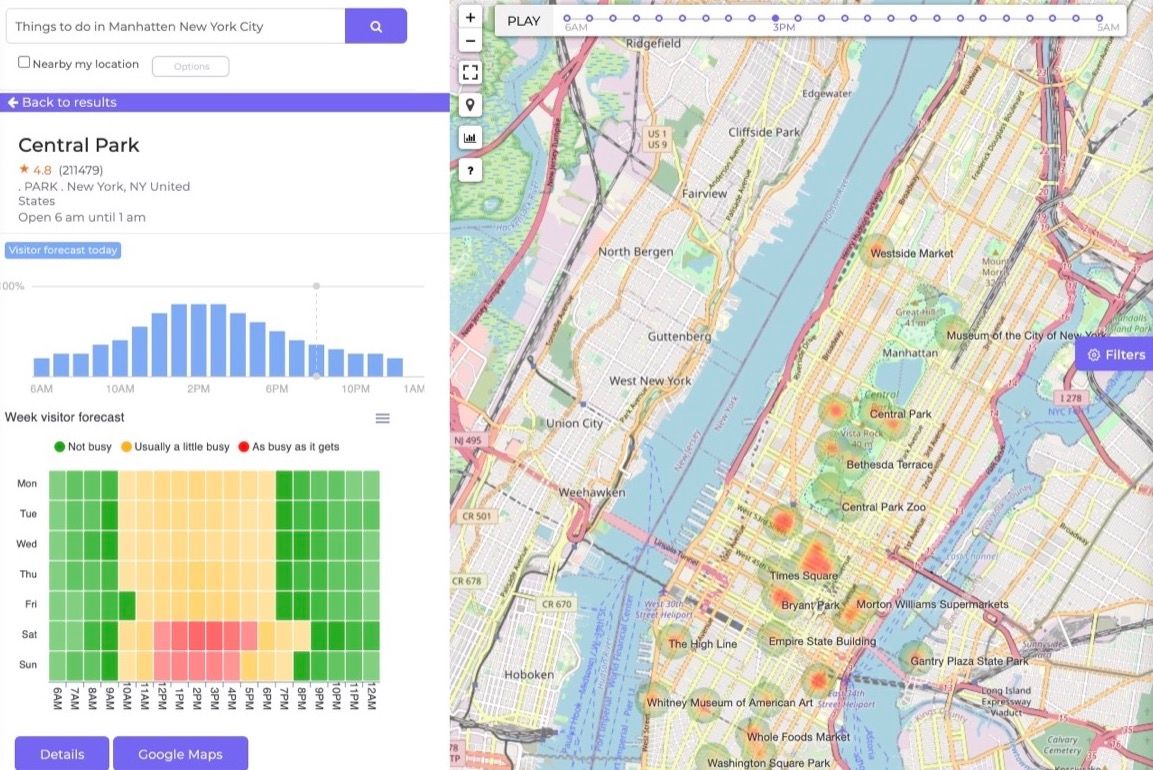 The above image shows one of the BestTime foot traffic tools. On the left, you see a blue plot indicating the forecasted foot traffic per day for the current day. Directly below is a colorful week overview displayed that shows how busy each hour of the week is forecasted to be (green quiet and red most busy).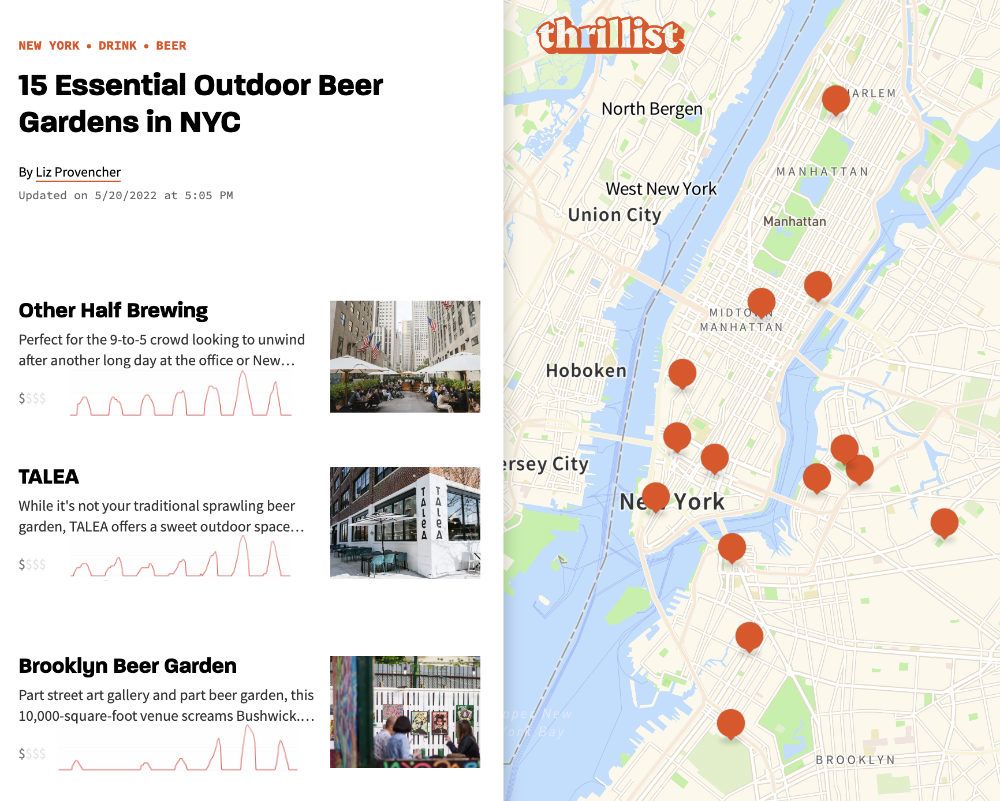 We created an illustration to show how foot traffic information could be incorporated into the well-known website Thrillist. For each hour of the week, the red lines show the forecasted foot traffic - per venue. Users can see that the third venue receives the most visitors on the weekends, while the first two are also busier during the workweek.
Advanced venue sorting and filtering
BestTime also has tools to analyze venues in whole areas based on their foot traffic forecasts. This makes it possible to filter venues on specific criteria like foot traffic intensity, day, hour, dwell time, venue rating, number of reviews, venue category, and more. These filters cannot only be used on the BestTime website but also be integrated into your own website or app using the software API. Wouldn't it be cool to for example show your users automatically:
The busiest bars on a Wednesday evening in a specific neighborhood
Quiet museums on Sunday afternoon
The busiest days in recommended restaurants and the time when tables are most scares.
Also, check out the BestTime foot traffic nightlife tutorial or demo video below:
More information
Please contact us regarding your use case. Also, check out the BestTime.app website and the interactive demo.
Example websites that could benefit from this are: